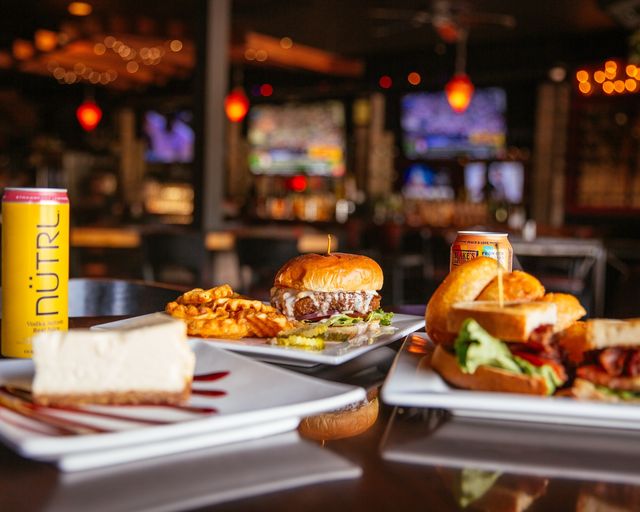 If you are looking for restaurants that are open for lunch, then you should dine at the Oakwood Bar & Grill. Our restaurant has been a Dearborn staple for years because of our amazing menu and perfect location!
Best Lunch Menu in Dearborn!
The Oakwood in Dearborn is proud of its large and diverse menu. Although we do not serve our entrees till 4 o'clock, our lunch options are nothing to sneeze at. Anyone who is eating lunch with us can order:
Appetizers
Grand Salads
Soups and Sides
Jumbo Wings
Platters
Burgers
Sandwiches
All of these categories provide some amazing morsels to choose from. If you are just peckish, you can order from one of our appetizers. You can also get some traditional snacks like Chips with Salsa and Queso, Cheese Stix, and Baked Breadsticks! Want some seafood? We have Crab & Shrimp Shrooms, Crackling Calamari, and Coconut Shrimp. In addition, if you want something that is unique and tasty, you should take a bite of our Fire Beef, Beer Pickle Chips, and Ahi Tuna! And there are still more appetizer options. Hankering for traditional bar fare? Nothing compares to our wings.  craft burgers, wraps, and sandwiches.
If you are looking for something that will you a good spicy kick, you need to order our Kickin' Avocado Chicken Sandwich. A combination of spicy mayo and soothing avocado makes this sandwich a perfect delight! The Hangover will give you a taste of breakfast at lunchtime. This burger has ham, applewood smoked bacon, American cheese, and an over-easy egg that pulls it all together. Best part? Oakwood's location is ideal!
Open For Lunch Near You
Oakwood is always open for lunch and our location makes it possible for people conveniently dine with us!  Our restaurant is located right on Oakwood, just off the Southfield Freeway. Our restaurant is near the Ford Motor Company, the Henry Ford Museum, and the local Beaumont Hospital. In addition, we are across the street from Fairlane Green. This shopping district has a large selection of stores that you can enjoy before getting a bite to eat!