---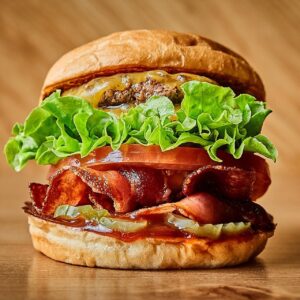 Are you looking for some tasty food to eat in Dearborn? Whether you're looking for a nice spot to spend your lunch break or a hearty meal to feed your family and friends in the early afternoon, Oakwood Bar & Grill has it all. Oakwood has a full menu filled with tasty options with a whole portion dedicated to our signature burgers and sandwiches. These handheld favorites are great choices when looking for a quick bite to eat at any time during the day.
Burgers
As any meat-lover knows, there is no "One Size Fits All Burger". Because of this, our kitchen offers all kinds of classics, savory flavors, spicy tastes, and even a lighter vegetarian option. 
The Oakwood Burger

Mushroom & Swiss

The Hangover

All Jacked Up

Oakwood Sliders

Black & Bleu

The Big Bacon

Super Jacked

The Steakhouse

Patty Melt
Sandwiches
Sometimes, a burger just doesn't sound good. It might seem too heavy on the stomach for a midday meal or it might just not appeal to your appetite. In this case, our sandwich selection is the way to go. From classic chicken Caesar wraps and BLTs to our original Slow Poke and Big Chick sandwiches, we have something for everyone. 
Big Chick

Kickin Avocado Chicken

Jive Turkey Reuben

Righteous Reuben

Slow Poke

The Frenchy

Ghost Bird
Lighter and Healthier Options
Even if you're not craving a ½ pound hamburger or a big sandwich, we have some healthy options on hand. Firstly, we offer an Impossible Burger with a plant-based patty and toppings that hide the fact that you're not eating authentic meat. Secondly, we offer several classic sandwiches perfect for lunch-sized expectations such as our club sandwich and real BLT. Additionally, our menu includes several wraps that can be ordered including our chicken Caesar wrap and turkey club wrap. 
If you're looking for a nice burger or sandwich for lunch or dinner, head over to Oakwood Bar & Grill in Dearborn! Check out our menu today and see what we can make for you!